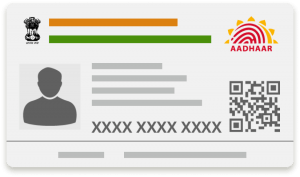 This feature allows you to extract printed text from Aadhaar card image given by onboarding users and match it with our offline XML. Verify the Details obtained from the Aadhaar image is confirmed with pre inputted data from the user, thus strengthening the user verification process. Onboarding new customers have now become a lot quicker and safer than before.
Integrating OCR checking allows you to verify onboarding users by cross-checking the extracted details with the pre inputted information like name, date of birth, gender so that you do not have to worry about identity fraud or document forgery.
Also, make it hassle-free for your customers to verify Aadhaar details just by asking them to upload a snap of their Aadhaar card while we take care of the rest.
This API can be used in such situations –
Digitisation of identity verification at airport check-ins can make the process faster and hassle-free for both the passengers and airport authority.

Identity verification for registration of candidates for examinations.

Identity verification system at educational, government institutions etc.

Identity verification for entry at various buildings, premises etc.
The process is simple to understand and perform –
Individual uploads the photo of his/her Aadhaar card.

Get extracted information from the Aadhaar card and result of verification.