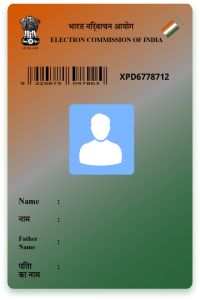 Our voter-ID verification API enables you to use our voter-ID Auth to authenticate onboarding users just by uploading the serial number on their voter Card or taking a snap of it. A voter card is issued by the Election Commission of India to every individual who has reached the age of 18 and is not deemed disqualified to vote under any law. The voter card consists of the following information about the voter-
Voter's full name and father's name

Voter's Date of birth, permanent address and photo ID.

Card Serial number

Voting ward number

Signature of an electoral officer in power
This API lets you check the authenticity of one's voter card and also retrieve and cross-check the information about the voter given, on the card itself. Digitising the process will save you a lot of time and fetch you accurate and verified details from the central database about the onboarding user, complying with the government regulations at the same time.
This API can be used in such situations
Identity proof of an individual and a registered voter.

Proof of other voter details such as address, date of birth, etc.

Can be used for availing various government schemes.

Prevent electoral fraud and to improve the accuracy of electoral roll.
The process is simple to understand and perform –
The API will authenticate the individual by verifying his/her EPIC number with the central database.

Get the result of authenticity and other details on successful verification.