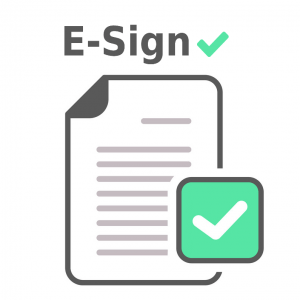 Aadhaar e-sign enables you to sign your documents electronically at one go from anywhere, anytime from any device legally in India.
The signature on the documents is carried out by our backend servers after proper verification of the signer. The signed documents are then authenticated by the Aadhaar e-KYC services, thus an mobile number registered Aadhaar ID is mandatory for this process.
e-signing is more economical since paper handling costs are reduced, allowing the signer to sign and view documents remotely, right through his/her device. This improves the efficiency as less time and resources are consumed rather than doing it in the traditional way.
The entire is process is monitored by the government, thus assuring the signer absolute corporate governance. The simple process of completing e-KYC from the customer's end is required.
This API can be used in such situations –
Digitally signing the agreements without the requirement to print the hard copies of these files.

Can be used in banking, medical, real estate, educational and other various sectors where the signing of documents are required.
The process is simple to understand and perform –
Upload documents to be signed on our platform by the entity.

Aadhaar holder will review the document before signing

Enter the Aadhaar number or VID.

Select the mode of authentication.

OTP: One Time Password will be sent to the resident's Aadhaar registered mobile number.
Fingerprint: Verify the resident through the fingerprint scan.
Iris: Verify the resident through Iris scan.

Certificate for the digital signature is issued by CCA, after successful authentication.

The digitally signed document is sent to the organization and the user.